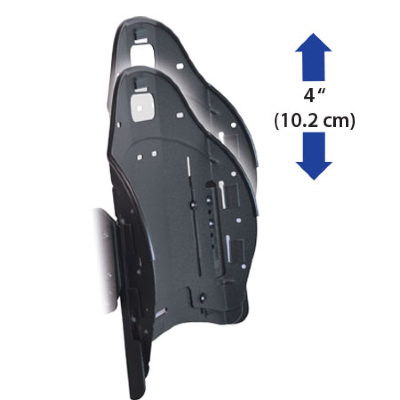 NXT Xtend Low Adjustable Thoracic Back
Please contact HomEquip for pricing/quote as it varies per type and size, and to verify this back is right for clients needs or per Occupational Therapist recommendation.
Description
The NXT Xtend LOW and Xtend LOW DEEP Height Adjustable Thoracic Back Support have been designed with a lower than the standard back, with incremental height adjustments allowing for precise targeted support of the thoracic region.
The Xtend Back Support is one of the most highly adjustable back supports available today. Precise height adjustments allow for small incremental changes, or for a change in the users, condition which requires modification to the back height placement or contour support.
Features
Deep, depth adjustable lateral contours for optimal midline support and positioning (DEEP models only)
Adjustable upper section allows for optimal lateral thoracic support
Fixed lower section supports the pelvic area
Precise height adjustment allows for small incremental changes, or for a change in the users' condition which requires modifications to back height placement or contour support
Two-piece lightweight aluminum shell
Scapula cut-out shape
Quantity
Each, Includes:
Two-piece lightweight aluminum shell (height adjustable)
Depth adjustable lateral contours (DEEP Only)
Dual density foam back cushion
Pelvic/lumbar pads
Antimicrobial spacer mesh cover (washable)
Installation hardware – QuickFit Mounting System
One-Hand Quick Release
Specifications
Seat Width: 12 - 22"
Back Height: 13 - 17" 
Contour Depth: 3.5" (Xtend) / 4.5 - 7" (Xtend Deep)
Weight: 3.75lbs - Based on 16x16" Xtend
Weight Capacity
300lbs / 400lbs (22" wide)
Accessories and Options

External Lateral Supports
Incontinent infection control covers
Head supports
Replacement cover and foam
Standard and deep contour options
Manufacture
Dynamic Health Care Solutions
Website: CLICK HERE