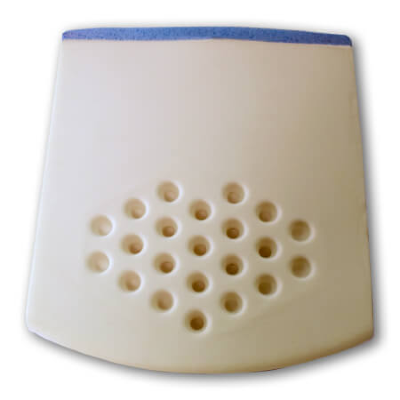 Please contact HomEquip for pricing/quote as it varies per type and size, and to verify this cushion is right for clients needs or per Occupational Therapist recommendation.
Description
The NXT NüFit Wheelchair Cushion is a multi-layer contoured cushion designed for users who need a comfortable cushion with good positioning and are at low to medium risk of skin break down.
Anatomically shaped SPS (Selectively Perforated Softening) perforations are anatomically positioned to support the ischial/sacral area to prevent sliding and shear and maintain pelvic positioning. Provides immersion and lower pressures to the bony prominences while supporting surrounding areas that can take a higher load.
Pelvic Obliquity/Lateral Pads are available in 0.5" (1.3cm) or they can be doubled to 1" (2.5cm). They are easy to install in a variety of locations with double-sided tape and can be trimmed to fit. These pads can be used as a pelvic obliquity build up or adduction for thighs.
Features
HR foam

 is cool to touch and not affected by heat build up or extreme cold

Soft density top layer

 for comfort and emersion made with antibacterial properties

Medium Density Viso Foam provides improved support, positioning and immersion
Firm HR Moulded Layer for support, stability and durability with SIT Technology
Quantity
Each, Includes: Foam Cushion, Inner Cover, Outer Cover
Specifications
Seat Width: 16 - 22"
Seat Depth: 16 - 20"
Height at Leg Trough: 3.25"
Height at Highest Point: 4.25"
Weight: 1.8lbs - Based on 16x16"
Weight Capacity
300lbs
Manufacture
Dynamic Health Care Solutions
Website: CLICK HERE