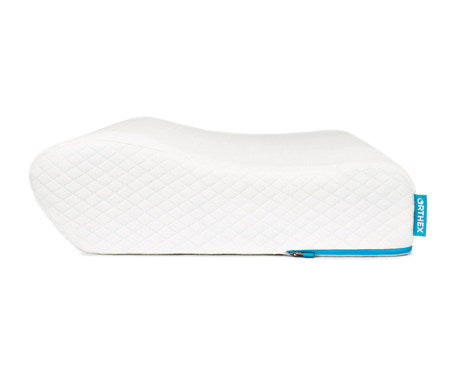 Orthex Cervical Pillow (Side Sleeper)
Description
The Somnia 04" & 05" is optimized for side sleepers to stabilize sleep and increase the level of recovery. The alignment of the body must be respected in order to avoid tensions. That is why the Somnia 04" & 05" includes double density memory foam reinforcement for the head. A specific area for inserting the shoulder serves to limit the pressure on the latter ensuring a separation between the neck and the trapezium. The design is modeled on the contour of the human body which, when lying on the side, requires a longer and thicker but more flexible neck support.

Simply align the highest side of the pillow with the neck. This section is thicker and more flexible whereas the portion supporting the head includes a high density reinforcement to maintain the head correctly aligned with the body. A space to insert the shoulder reduces its tensions. Although the thickness, proportions and reinforcement of the pillow favors sleeping on your side, the Somnia 04" & 05'' may be used for sleeping in another position, if you are comfortable.

Features

Composition: High density, gel infused, viscoelastic foam (memory foam).
Cover: Bamboo viscose is a textile with unmatched comfort; it's antibacterial, hypoallergenic and breathes and absorbs humidity, which reduces the effect of nocturnal heat.
Maintenance: The Bamboo cover is machine washable in cold water. Lay flat to dry. No ironing. No bleach. Additional covers are available.
Quantity
Each
Size/Dimensions
04" = 22" W x 13" L x 4" H 
05" = 22" W x 13" L x 5" H