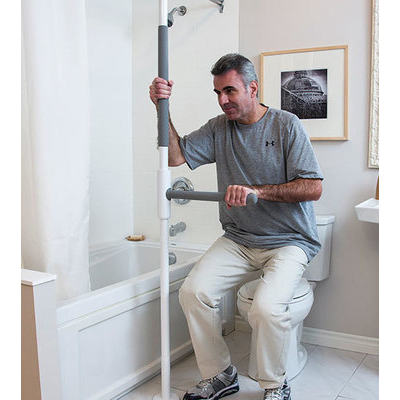 Description

With the simple addition of the SuperBar, the SuperPole transforms into an even more versatile product with both horizontal and vertical support. Additionally, with 8 locking positions around the SuperPole (one every 45 degrees), you can stay closer to your support as you move. Push, pull, or lean on the horizontal SuperBar as it offers support that is tailored to your needs.
Features
Innovative - 

A gentle lift unlocks the bar. Keep the bar up to move freely. Let the bar down to lock. Provides 8 locking positions around the SuperPole.
Trusted Support - Push or pull on the bar to assist with sitting, standing and moving. To help prevent a forward fall, the bar will lock if released. Widely prescribed by therapists around the world.
Reduce Caregiver Strain - Maximize the use of available strength while a caregiver supervises. Promotes safe and independent movement.
Space Saver - Great for around the bath or toilet, where limited space can make it difficult for a wheelchair, walker, or rollator.
Safety - Unlocks and pivots freely to move with you step by step, yet locks every 45 degrees to assist with standing and sitting. Automatically locks when released preventing forward or lateral falls. Full support when making two or three steps transfers.
Quantity
Each
Size/Dimensions:
Pole: 93-99" (7.75-8.25 feet)
Bar: 16" long x 1.5" diameter
Weight Capacity
300lbs